Carolina Junior Cotillions
Parent Committee – Kinston Chapter
Each year there are a group of parents from surrounding schools that agree to serve on our Parent Committee for Cotillion.   They reach out into the community and communicate the values of the Cotillion experience, with the goal of recruiting students to enroll.
Carolina Junior Cotillions prides itself if offering their programs to any and all interested students. No one is ever turned away due to extenuating circumstances or finances.
Additionally, some of our current Parent Committee members were previous students of our program.  Such fun to watch another generation continue the legacy of Carolina Junior Cotillions!
2019-2020 Parent Committee
| | |
| --- | --- |
| Melissa Barrow | Phyliss Outlaw |
| Latoya Betton | Jill Price |
| Jenny Daughety | Bobbie Lou Price |
| Staci Garner | Ashlyn Pridgen |
| Sara Golden | Janis Skocyzlas |
| Amanda Johnson | Lindsey Stapleford |
| Misty Lahiff | Shelia Sutton |
| Megan Lawson | Lisa Sylvia |
| Beth Loftin | Rosalyn Yarus |
| Jessica Murphy | |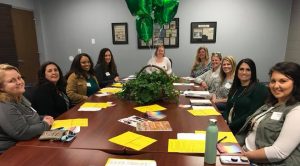 manners in motion

"My daughter is EXTREMELY shy and at first did not want to do Cotillion. But, after finding out that all of her friends were doing it, she decided to join and she LOVED it. She is so excited to do it again in the fall. I think it was a very good experience for her and a confidence booster. Thank you for the fun aspect you put into it as well as etiquette."